Chair: Isabel Hernandez, Miami Dade College
Phone: 305-237-6151
Chair-Elect: Grenka Bajramoski Fletcher, Valencia College
Phone: 407-766-0270
Secretary: Lena Phelps: South Florida State College
Phone: (863) 784-7303
Webmaster: Lindsay Schriftman, Miami Dade College
Phone: 305-237-5245


---
Join us for the Region V &
Learning Resources Commission
Spring Conference

May 8-9, 2014 -  Spring Conference Flyer
Download the Registration Form now!
View the Conference Agenda
Check out our Presenters
!
Thank you to our conference sponsors:
Baker & Taylor
Balloon-A-Tics of Miami
Boston Market
Capella University
Dade Recycling
EBSCO Information Services
First Investors Group
Grand Canyon University
Pradere Manufacturing Corporation
A Mile of Smiles
CDW-G
Costco Wholesale
Embroservice Advertising Specialties
La Provence Artisinal French Bakery & Cafe
Macmillian Publishers
Miami Dade County Elections Department
Microsoft
Midtown Video
Midwest Library Services
Pride Enterprises
South Florida Educational Federal Credit Union
Tutor.com
Demco
Hotel Information for the Spring Conference:
Holiday Inn, Port of Miami Downtown, 340 Biscayne Blvd, Miami, FL 33132
Phone: (305) 371-4400Toll Free: (800) 526-5655
Price: $139.00 per night (*subject to change)
Breakfast Buffet: $15
Overnight Valet Parking: $25
Courtyard Marriott, Downtown/Brickell Area, 200 SE 2 Avenue, Miami, FL 33131
Phone: (305) 374-3000Toll Free: (800) 321-2211
Price: $129.00 per night (*subject to change)
Overnight Self Parking: $18, Overnight Valet Parking: $25
http://www.marriott.com/hotels/travel/miadt-courtyard-miami-downtown-brickell-area/
---
Incoming officers were elected at the 64th Annual Convention in November: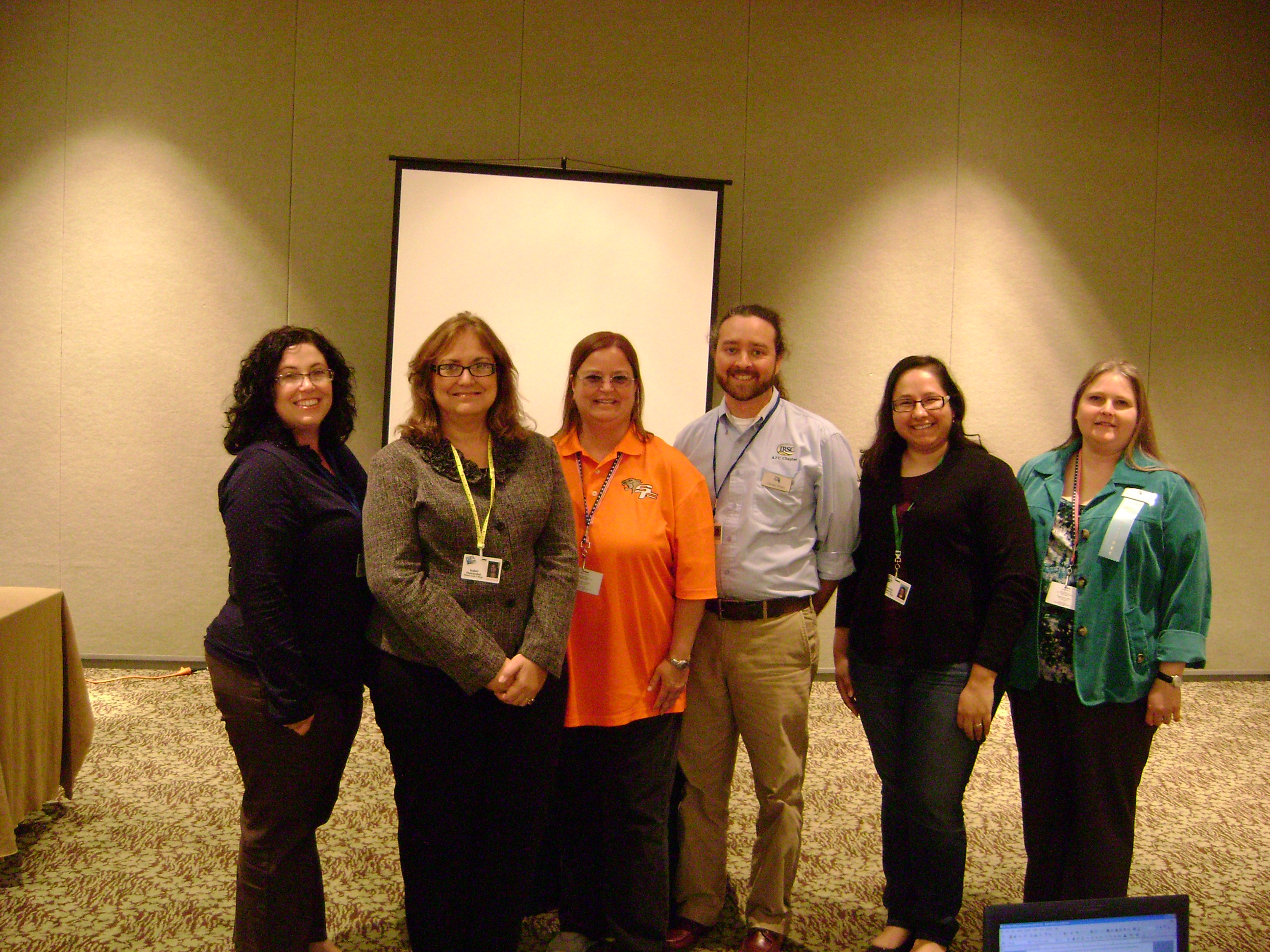 From left to right: Lindsay Schriftman, Incoming Webmaster, Miami Dade College; Isabel Hernandez, Vice-Chair, Miami Dade College; Lena Phelps, Incoming Secretary/Treasurer, South Florida State College; Dan Hood, Immediate Past Chair, Indian River State College; Grenka Fletcher, Incoming Vice-Chair, Valencia College; Michelle Monteleon, Chair, Hillsborough Community College
Call for Exemplary Award Nominations!
The AFC Learning Resources Commission is pleased to sponsor the two Annual Learning Resources Commission Exemplary Practice Awards:
1) Library Services for MLS Librarians
2) Learning Support Services for support staff
The commission recognizes outstanding programs and professionals in the learning resources field and invites each Florida College to showcase its best programs.
If your college has a program considered new and innovative or a program that illustrates exceptional practice in either library services (for MLS librarians) or learning support services (for support staff), we encourage you to nominate one per campus. The program must have been in existence for the 2013-2014 academic year (July 2013-June 2014). The nomination should include an abstract of the program and any supporting documentation. The nominee must also be a member of AFC by the application deadline to apply. By mid-September, finalists will be asked to present their entry at the AFC Fall Convention in Sandestin, October 29-31, 2014. The winners will receive $500.
Click here for the nomination form.
Deadline--August 29, 2014, sent electronically to Isabel Hernandez at ihernand@mdc.edu.
If you have any questions, call Isabel at 305-237-6151 or email her.
---