Recognizing the need to establish procedures and guidelines as they reflect the rights, responsibilities, and objectives of its membership, the Learning Resources Commission hereby adopts these Bylaws: Click here to view the Bylaws

AFC has a mission statement, value statement and goals. Each organizational unit (chapter, commission, region, committee) in turn has its own operational plan that aligns with the goals and objectives of the organization as a whole. Click here for the Learning Resources Commission's operational plan.
---
Exemplary Practice Award Winners

2014: Library Services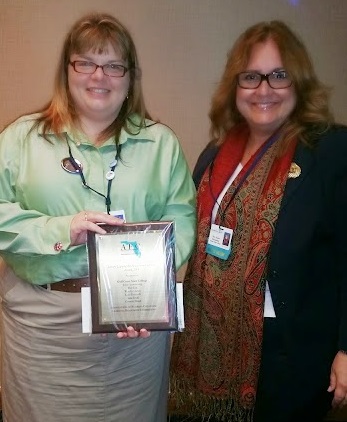 Wendy Dover accepting for Gulf Coast State College Librarians, Assignment Calculator
The Gulf Coast State College Library Assignment Calculator was created by AFC Member Librarians Wendy Dover, Connie Head, and John Armstrong, along with Wei Cen, Sara Duff, and Lori Driscoll, in order to maximize student success. The Assignment Calculator provides an innovative framework for students to learn valuable planning and organizational skills along with the research process and the access to relevant library services and resources. The timeline is calculated based on our algorithm to keep students on track; links to brief animated tutorials created by the librarians keep students engaged as they learn about choosing a topic, using databases, proper citation, and plagiarism.  While this tool is an excellent way to market library services, it also reaches far beyond the library to support the development of skills crucial to student success in college and beyond. A student learns how to avoid procrastination by developing a workable timeline and breaking the project into manageable pieces. Graphical methods for topic development are introduced and can be used as a new way to develop one's thesis. Successful organization of notes and quotes not only make it easier to thoroughly represent the scholarship, it also helps prevent unintentional plagiarism. And the important steps of writing, thinking, reviewing, and revising develop critical thinking
2014: Learning Support Services
Stacey Brown, Florida SouthWestern State College, "Mental Health Awareness lectures/workshops"
Stacey Brown developed and proposed a series of lectures/workshops for faculty and staff centered on a very important topic, mental health awareness. She committed her time to developing details presentations and facilitated six sessions which were open to all faculty and staff through a partnership with the college's Teaching and Learning Center. The topics presented included Mental Illness Awareness, ADHD, Anxiety, Depression, Bullying, and a Follow-up Q&A session. The workshops were attended by over 100 faculty and staff during the spring 2014 semester and will be offered again in conjunction with Mental Health Week this coming fall.  Stacey's workshops earned praise because she explained the topics in detail and also provided helpful information, including local resources, camps resources, and national resources. Staff especially appreciated Stacey's conversational presentation style and often arranged follow up meetings with her to discuss situations and issues that arise often in their daily work. Works evaluation data collected after each session revealed that faculty and staff learned a great deal from Stacey's presentations and also voted her as the Best Workshop Presenter for the Spring 2014 semester.
View Stacey's presentation as seen at the recent AFC Annual Convention in Destin, FL.
2013: Library Services

Chipola College, "Why is Amelia Bedelia in a College Library?" (presented by Renee Scott Hopkins)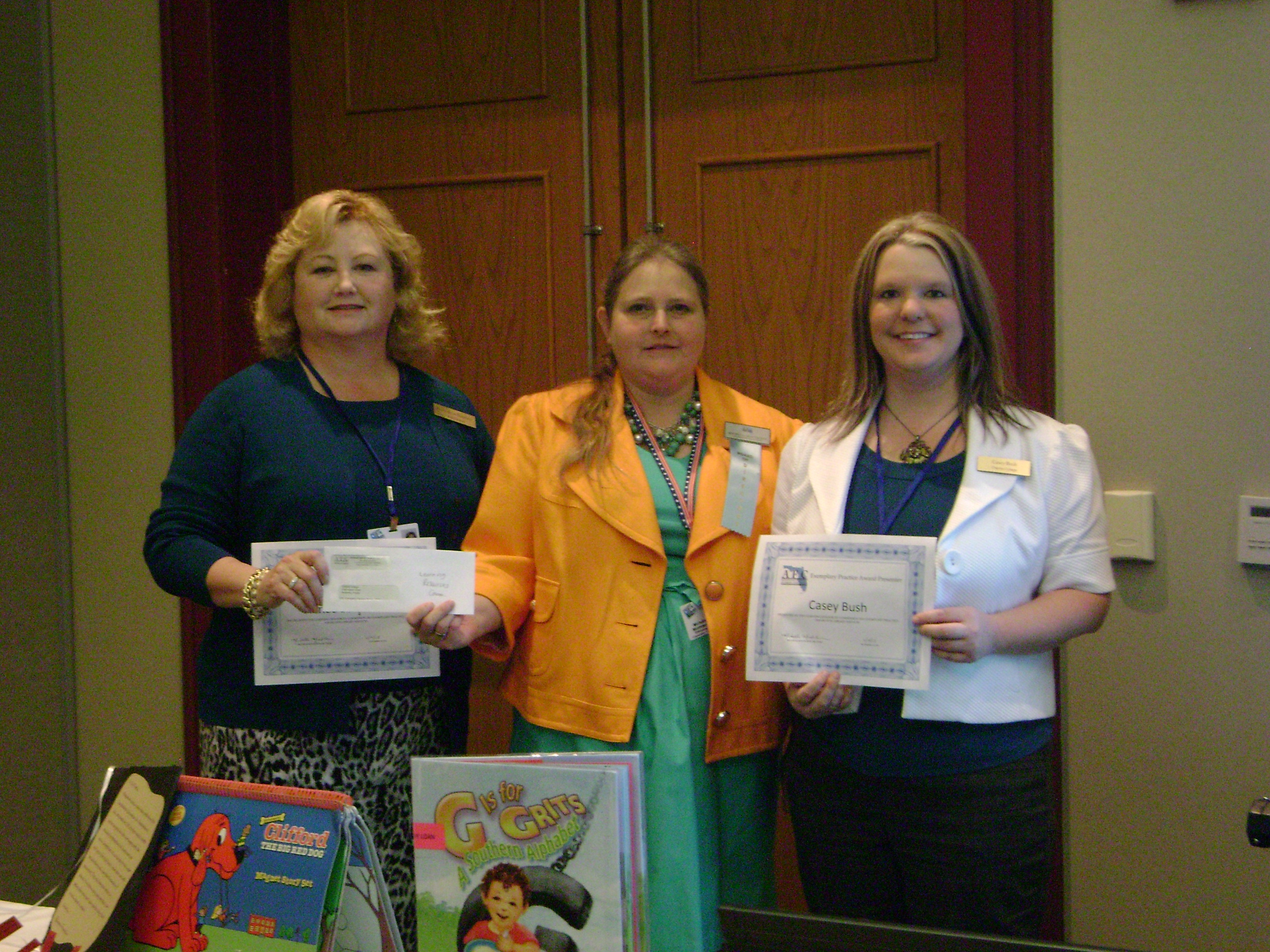 The K-12 Collection in the Chipola College Library serves students in the Teacher Education Program. This collection was created to provide students with hands-on experience with children's and young adult library resources and to extend the importance of reading within the classroom and beyond. This collection has been responsible for a large jump in circulation. The collaboration between the Chipola Library and the faculty and students of the Teacher Education Program will be discussed, as well as how assignments are successfully tied into the collection. The recent addition of the Teacher Education Collection and the organizational structure will also be discussed.


2013: Learning Support Services

Daytona State College, "Math Up: Gateway to Success" (presented by Theresa Greenbaum, Rachel Wendt, Michele Pelham, and Brandi Horn)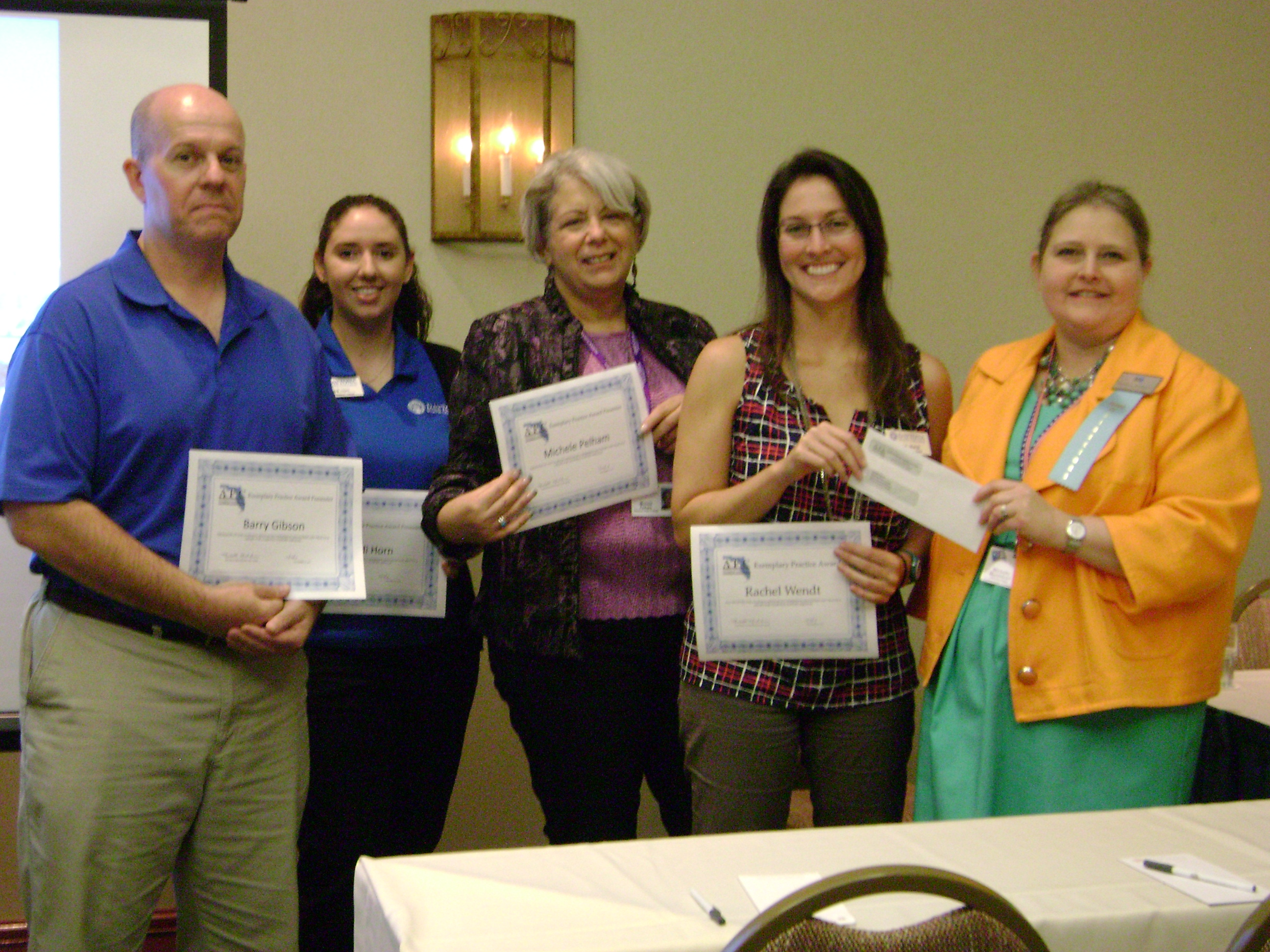 In the Fall of 2012, the Academic Support Center (ASC), in collaboration with the School of Mathematics at Daytona State College launched a new program, entitled Math Up, to help increase college readiness and completion. Math Up is a free program that provides a collaborative, engaging, stress-free environment in which students enrolled in Intermediate Algebra (MAT1033) can review key concepts and study skills the week before beginning the course. In this presentation, the facilitators will first review the history of the program's creation, development, and implementation, as well as the program's constant evolution and commitment to improvement. We will then uncover the findings and lessons learned from this initiative and discuss the impact that the program has had on the ASC and developmental math students. Finally, we will discuss and explore the implications for the college-wide community of using Math Up as a model to encourage collaboration and inspire innovative and creative initiatives to help students succeed.
2012: Library Services
Santa Fe College, "Library Research Award" (presented by Diana Matthews)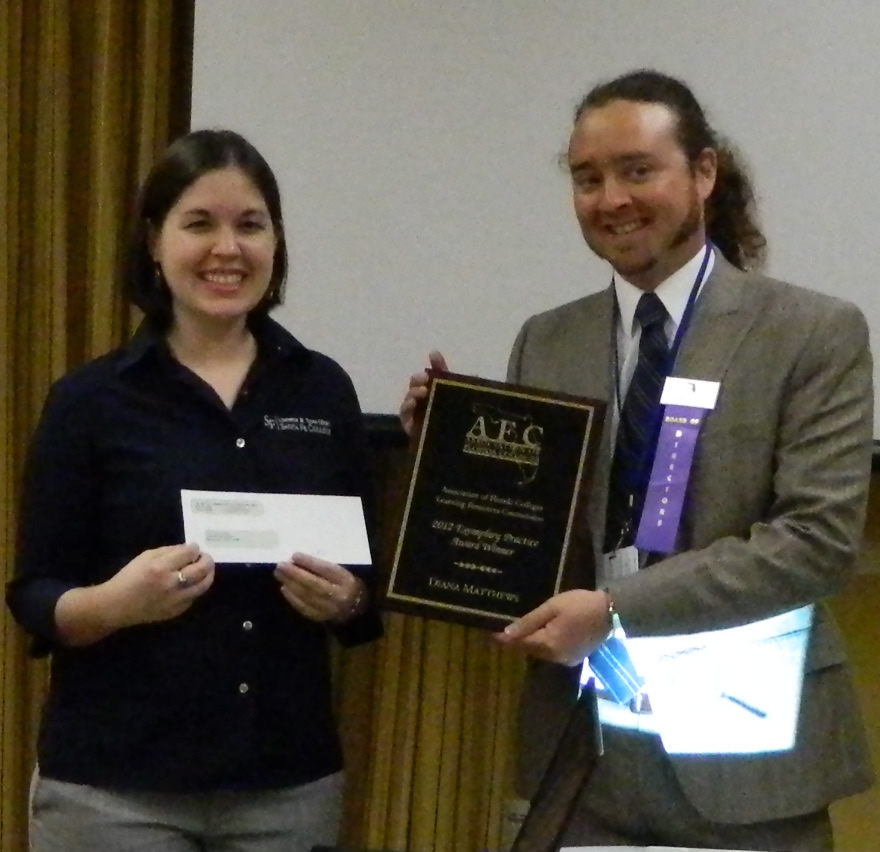 The Library Research Award is a joint collaboration between the Lawrence W. Tyree Library and the Research in Undergraduate Education (RUE) Workgroup at Santa Fe College. Its aim is to recognize exemplary research and information literacy skills of Santa Fe College students, as evidenced by course papers, and in support of undergraduate research across campus. This annual award is now in its third year. Students submit research papers that were written for Santa Fe College courses within the past calendar year, along with a reflective questionnaire that gathers information about their research strategies and experience. Each applicant's packet is reviewed by both librarians and faculty from within their content area, employing a standardized rubric. Packets are evaluated both on content and on information literacy skills. Up to three awards are given annually at the college's annual student awards ceremony, each with a cash prize. Feedback from faculty and students has been overwhelmingly positive. The introduction of this award has helped improve information literacy awareness and has fostered connections between the library and the campus as a whole.
2011: Library Services
State College of Florida Libraries, Sarasota-Manatee, "Just In Time: Student & User Support Services" (presented by Rhonda Kitchens)
In 2009, the State College of Florida Libraries, Sarasota-Manatee Library (SCF) faced a CMS upgrade that left it unable to monitor, follow and help students.  Working with the Tampa Bay Library Consortium Ask A Librarian service, SCF was the first Florida institution to deploy Instant Invite (Oracle's Click to Chat System).  This service has been used  in several ways.  Feedback in this service created other opportunities for user support and a unique snapshot of the information ecosystem.
2011: Learning Support Services
Daytona State College, "Under One Roof: Daytona State College's Learning Commons" (presented by Patrick Love, Diane Holmes Curtis, and Mercedes Clement)
This session will give attendees an overview of the services offered to students, faculty, and staff in the connected buildings housing the College's library, primary technology services, and student success centers. Specifically, the overarching attitude of collaboration and dedication to student success among staff members will be highlighted as a key to the success of this model.
2010: Library Services
Santa Fe College, "Utilizing Online Class Guides to Enhance Information Literacy Instruction" (presented by Jenna Miller and Diana Matthews)
To support distance learners and Santa Fe College's sustainability initiative, the reference librarians replaced print handouts with online class guides. The reference librarians continue to tailor dynamic guides to the needs of classes scheduled for information literacy instruction. In this session, the presenters will describe how to: create a template for online class guides, foster faculty interest and collaboration in the development and promotion of class guides, and use class guides to offer a simple method for administering assessment of a library's information literacy program.
2010: Learning Support Services
Daytona State College, "Partnership for Success: Faculty Involvement in Academic Support" (presented by Judy Campbell and Bob Balsamo)
Faculty involvement in the Daytona State College Academic Support Center (ASC) began to increase as faculty members became more aware of the academic support opportunities available to their students and the corresponding effect these opportunities had on student performance. The presentation will explain the 13 strategies the ASC developed to increase faculty participation and affect student success. The result of these initiatives is the exemplary partnership that has evolved between faculty and the ASC. Between July 1, 2009 and June 30, 2010, 148 faculty members contributed 5,421 hours of ASC service. Without the active and consistent faculty participation in ASC activities, it would have been impossible to provide academic support to the thousands of students who sought academic assistance. By their repeated visits, students confirmed that the help they were receiving in the ASC was valuable to their success. This extraordinary response from faculty directly benefited the students who sought ASC assistance.