Affiliate and Associate Membership
The Florida Association of Community Colleges is the professional Association for Florida's 28 public colleges, their Boards,employees, retirees, and associates.The mission of the Association is to actively promote, democratically represent, support, and serve the individual members and institutions in their endeavors to provide their students and the citizens of Florida with the best possible comprehensive college educational system.Today, all 28 of the colleges support the work of the Association through institutional dues,individual memberships of the nearly 9,000 college employees and retiree members and through the sharing of their talents, time and energy. Associate and Affiliate memberships provide an opportunity for expanded visibility and show that you actively support Florida's colleges, the employees and system.
We are working to revamp the Affiliate Membership program to provide organizations with more value and better return on their investment with the AFC. In the meantime, please take a look at our current brochure for more information and the enrollment and approval process.
For questions or to discuss how an associate or affiliate membership can help your organization, please send an email to info@myafchome.org or call 850-222-3222
850-222-3222 and ask for the membership department.
AFC Affiliate Membership Brochure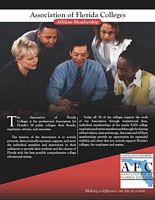 ---
Current Associate Members

Angela Black - Academic Insurance Solutions
Joseph Didier - Purposely
Pat Dix - Legislative Specialist
Doug Savage - TG
---
Current Affiliate Members
All are current members as of 3/24/14