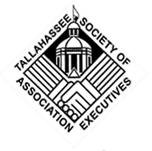 P O Box 1139
Tallahassee, Florida 32302

NEWS RELEASE
| | |
| --- | --- |
| For Immediate Release | Contact: Jan Scheff, Executive Director |
| October 22, 2012 | 850-561-6124 |
| | jan@tallysae.org |
Association of Florida Colleges honored with

Association of the Year Award
Tallahassee- The Association of Florida Colleges (AFC) was recently recognized as the Association of the Year during the annual meeting of local, state and national associations headquartered in Florida's capital city. The award was bestowed on October 17, 2012 at the TSAE Education Day & Trade Show, held annually by Tallahassee Society of Association Executives (TSAE). The Association of the Year award recognizes an organization that has demonstrated outstanding efforts, excellence and innovation related to its on-going or special programs and services, which benefit their industry, profession or the public at large.

The Association of Florida Colleges (AFC) is the professional association for member institutions of the Florida College System, their Boards, employees, retirees, associates and the Division of Colleges. It is organized through an extensive network of chapters, work-based commissions, and geographic regions. During the past year AFC has been involved in a transformation, converting itself from an organization primarily focused on advocacy, into an organization focused also on serving its institutional and individual members through a variety of member services and programs.

One of their ongoing projects is the Certified College Professional Program, that provides members with the opportunity to earn a professional designation related to their work as a college professional, and that also exposes them to content and experiences they may not be able to obtain elsewhere. Michael Brawer, Chief Executive Officer of the Association of Florida Colleges, said of the newly-implemented certification program, "The program is one-of-a-kind nationally, and has touched over 30 of our members in the first year. It's a stepping stone for the new generation of college leaders in Florida."

Strong in their advocacy and volunteerism towards many causes, the AFC conducts 25-30 service activities annually, one example being the donation and packaging of thousands of items for Operation Shoebox for the Armed Services.

The Association of Florida Colleges (AFC) received the award before an audience of over 200 association professionals, who gathered for the annual Awards Ceremony during the Education Day & Trade Show event.
*****
About Tallahassee Society of Association Executives TSAE is headquartered in Tallahassee, Florida and has more than 700 members - associations, vendors, facilities and individuals. We offer numerous educational opportunities for our members including: a monthly luncheon, an Annual Education Day and Trade Show, workshops, leadership institutes, and seminars.